Operation Outbreak equips young students with hands-on experience in outbreak preparedness.
Training Teens for the Next Pandemic
In December 2019, weeks before the first Covid-19 case was reported in the U.S., a novel airborne respiratory virus hit Sarasota Military Academy (SMA), a public charter school in Sarasota, Florida. The virus spread swiftly and stealthily, causing flu-like symptoms. Healthcare workers were overwhelmed. Scientists raced to find a vaccine. The government struggled to manage the situation. And people panicked—some began hoarding food and face masks.
Fortunately, it was a simulation.
The students at SMA are part of an innovative program, called Operation Outbreak, that aims to teach users about viral pandemics and how to contain them. Developed by a faculty member at SMA and a team from the Sabeti lab at the Broad Institute, the program revolves around an app-based outbreak simulation, which assigns roles in government, public health, medicine, media, and the military to users, who then have to work together to stop a virtual pathogen spread via Bluetooth from one person's phone to the next. Though created before the Covid-19 pandemic swept the world, it's proving to be a valuable tool in teaching pandemic preparedness and response—critical lessons for young people facing a future at risk of more outbreaks.
"When you just sit in class and learn something, it's hard to connect it to real life," said Grace Wagler, a senior at SMA and participant of Operation Outbreak. "Here, I feel like I got insight into how difficult it is for different groups to work together in an outbreak."
Thanks to the support of the Gordon and Betty Moore Foundation, Operation Outbreak has already been deployed in nearly 20 schools across the world—from Sarasota to Shanghai—with plans to launch it in at least 80 more schools by the end of 2022. The program includes not only the app but also study materials on pathogen biology, epidemiology, and public health. The team behind Operation Outbreak is also developing an open-source online textbook and a 15-part video course series on outbreak science and pandemic response.
Operation Outbreak was born out of another deadly epidemic. Back in 2015, when Ebola was ravaging countries in West Africa, a group of seventh-graders at SMA wanted to learn more about the epidemic. They posed questions almost every day to their civics teacher at the time, Todd Brown.
Brown, who is now SMA's outreach director, leaned into his students' curiosity, adapting their curriculum to incorporate public health and what happens during pandemics. "I integrated contemporary world news into what we were teaching about levels of government, and how things would work if something similar were to happen in the U.S.," said Brown. "And it turned into why don't we have a simulation."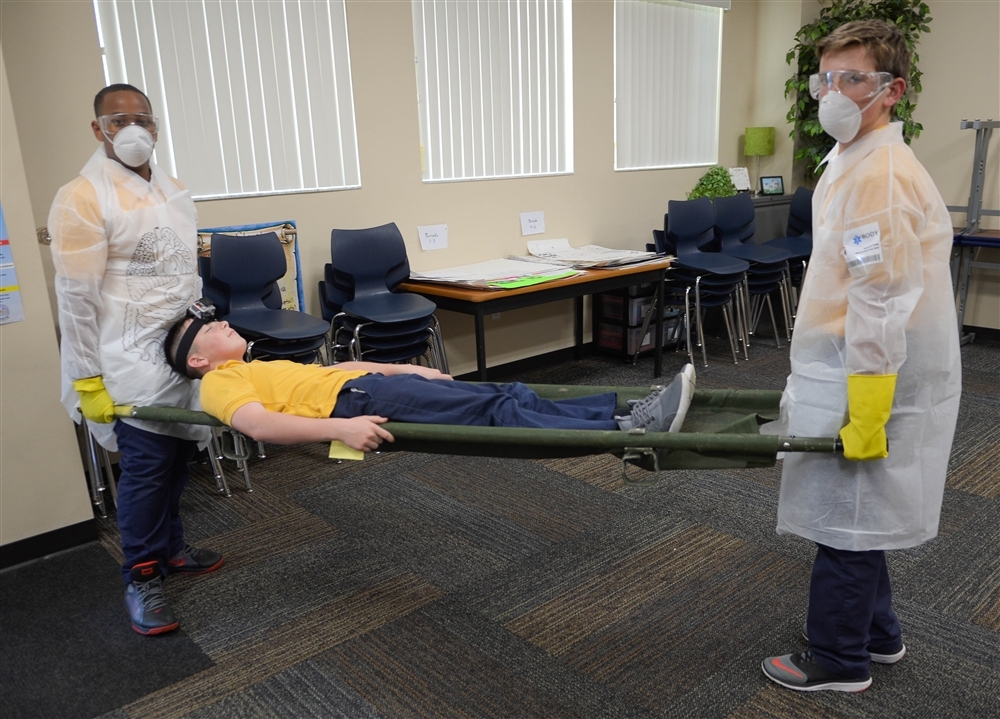 Students at the Sarasota Military Academy Prep participating in the school's Operation Outbreak simulation.
Brown reached out to Pardis Sabeti, an infectious disease expert at the Broad and Harvard, to propose the idea of running a simulation. (He had initially emailed Sabeti to request an autograph on behalf of his seven-year-old daughter, who was a fan of her research.)
Sabeti, who grew up in Florida and is a passionate educator, loved the idea. In 2016, the first official Operation Outbreak simulation using stickers to 'infect' participants commenced on the SMA campus. A year later, Andres Colubri, a former postdoctoral researcher in the Sabeti lab, joined the team and developed the app—bringing the experience even closer to real life.
"Our first app-based simulation worked really well, and we used an Ebola-like virtual pathogen," said Colubri, who now leads his own group at the University of Massachusetts Medical School. "But in 2019, we switched to a SARS-like virus, incorporating elements like asymptomatic transmission. We were running this not knowing that a similar virus was spreading across Wuhan."
While Covid-19 has made it challenging to run in-person simulations, the team has been retooling Operation Outbreak in response to the pandemic. That includes leveraging the app's Bluetooth-based proximity-sensing to track contacts between users and assess their physical distancing efforts—a valuable capability that was used last summer at the One Summer Chicago program to train 2,000 young adults as social-distancing ambassadors.
Working with Fathom Information Design, a Boston-based group specializing in data visualization, the team has also built a dashboard that visualizes social connectivity among consented participants and tracks individual transmission patterns, including how someone got infected and spread the simulated virus, whether they were vaccinated, and did they recover.
"Our visualization dashboard really marries qualitative and quantitative analysis of post-simulation data. Both students and staff can deeply engage in and learn from this," said Kian Sani, a co-lead for Operation Outbreak, who joined the team in 2020.
Colorado Mesa University (CMU) is already seeing the benefits of this data analysis. Last year, more than 350 CMU students participated in a four-day Operation Outbreak exercise where the app ran in the background of their phones as they mingled during their normal routines. The results were instructive. As expected, increased interactions fueled the virtual virus' spread—but most of this simulated transmission occurred via social activities rather than in classrooms, a dynamic that could also explain Covid-19 outbreaks on campus at the time.
As part of their Covid-19 response, CMU had sorted its students into social units. But after studying the Operation Outbreak data, they decided to incorporate more student behavior into their pandemic mitigation strategies, allowing students to create their own units with both CMU and non-CMU members.
"With the visualization tools, you could see it happening in real time. We needed to engage and incorporate the student perspective in our policy making," said John Marshall, vice president of CMU student services. The exercise is also shaping their testing strategy, which has now been expanded to include non-CMU community members.
Sabeti, who is also co-leading ambitious efforts with close collaborators in Africa to pioneer a pandemic preemption and response system, sees Operation Outbreak as an essential tool for preventing, preparing for, and coping with future epidemics. "There will be other outbreaks, and we must ensure that everyone—students, healthcare workers, public health officials—is prepared," noted Sabeti. "That's where Operation Outbreak can make a difference." —Indrani Mukherjee